Slip and Fall Attorneys Serving Norman, OK
What Do You Have to Prove in a Slip-and-Fall Claim?
How Aldridge Teasdale Attorneys Will Handle Your Case
Insurance companies will challenge your claim. This makes it crucial to contact Aldridge Teasdale lawyers as soon as possible after being injured in a slip-and-fall accident.
Attorneys at Aldridge Teasdale will:
Investigate and gather all evidence regarding your injury
Obtain video surveillance of the incident
Assist you in getting the best medical treatment in the State of Oklahoma
Obtain statements from employees and any other witnesses to your case
Demand a settlement that is fair to you
Schedule a free consultation with our team at Aldridge Teasdale today. We are here to help.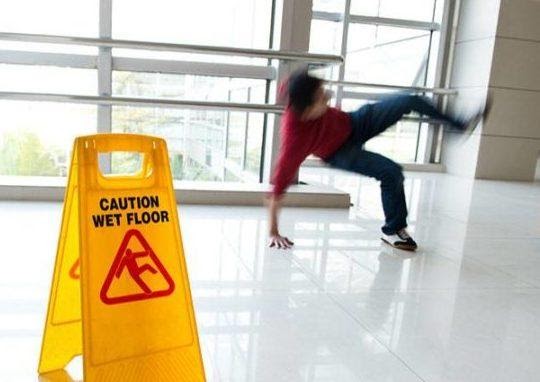 More than one million people go to the emergency room each year for a slip and fall accident. The number of people who need emergency medical care because of a slip and fall is more than one million each year. That's more than two thousand people each day in the United States alone. There are approximately eight million emergency room visits each year because of falls. Of those falls, roughly 12 percent are slip and fall accidents.
The average cost of a slip and fall is $30,000 to $40,000. According to the Centers for Disease Control and Prevention, the average hospital cost of a slip and fall is more than $30,000. Another source says that snow-related slip and fall accidents cost between $33,000 and $48,000 on average. These costs not only devastate families, but they raise insurance costs that impact our entire society.
Approximately five percent of slip and falls involve broken bones. When you slip and fall, there's a five percent chance that you're going to break a bone. A slip and fall accident causes severe injuries in 20-30 percent of cases. Fractures = additional general damages (pain and suffering)
Approximately one-third of adults over 65 fall each year. The older you get, the more likely you are to fall, and the more serious your slip and fall accident is expected to be. In fact, slip and falls are the most significant cause of injuries on the job for people over 55. Also, more than 60 percent of nursing home residents fall at least once each year.
But slip and falls are a leading cause of injury for all age groups. Even though slip and fall accidents are often the most serious for older adults, they're a leading cause of injury for all age groups. In fact, slip and falls are the most common way non-fatal injuries occur for every age group except for people between the ages of 10 and 24. For people ages 10-24, it's the second-most common cause of non-fatal injuries.
Falls are the most common cause of brain injury. Even though most people associate brain injuries with organized sports, the most common way to suffer a brain injury is falling. A brain injury can be devastating because the victim may not even realize the extent of their injuries. A brain injury can have lingering effects, and it's critical to recognize, diagnose, and treat a brain injury correctly.
Falls are the most common cause of hip fractures. Falls are responsible for a whopping 95 percent of hip fractures. A hip fracture often requires invasive surgery. The pain, suffering, and limited mobility from a hip fracture can change your life in an instant.
Medical bills for slip and fall injuries top $34 billion each year. Slip and fall accidents cost Americans more than $34 billion each year. In fact, medical bills are a leading cause of bankruptcy. The medical bills that result from a slip and fall are often both unexpected and devastating.
Slip and fall victims miss an average of 11 days of work. In addition to medical bills and other damages, slip and fall accidents cost businesses in terms of lost work productivity. A slip and fall accident results in an average of 11 lost days of work.
In cases of serious injury, lost work productivity may be much more significant.
Only two percent of cases go to a jury trial. Many lawyers hesitate to bring on a personal injury action because they worry about an obvious denial of the claim and relating trial. However, less than two percent of personal injury cases result in a jury trial.